In a time when the coronavirus dominates the news, we fortunately have other news as well: Duijvestijn Tomaten has expansion plans and introduces a new logo. This summer, a brand-new greenhouse complex covering 10 hectares will be built opposite our current location on Komkommerweg. This complex will also use grow lights. We will report more about this later.
The aim of the expansion is to future-proof our company. A new, strong, contemporary and fresh logo has been chosen to reflect this ambition. The logo will be partnered with our new, forward-looking slogan: next generation growers, which also emphasises our ambition to motivate and inspire a new generation.
Duijvestijn
We have been growing high quality, tasty tomatoes for over 50 years. Sustainability and innovation have always been key components of how we operate. Over the years, our focus has increasingly shifted to specialise in sustainable production and the development of new (tomato) products and healthy food concepts. We have now evolved into one of the most innovative and sustainable tomato growers in the Netherlands. The new logo characterises the company we are today and our ambitions.
New logo
The new logo is light and airy on a crisp, white background with two stylised spiral shapes that symbolise circularity and connection. The curved shapes pay tribute to the old logo, the crown references our core business.
About the logo
The basic colour is golden brown. This shade conveys an earthy, natural image and stands for reliability and authenticity. The accent colour is green. This represents the fresh tones of nature and stands for growth, innovation and vitality/health. Both colours match our company's focus and sustainability ambitions.
LogiFour
A new logo will also be introduced for our packaging company LogiFour. It will feature the same shapes and basic colour as the Duijvestijn logo, but as a mirror image without the crown. This logo will use a bright azure blue as the accent colour. This stands for reliability and quality.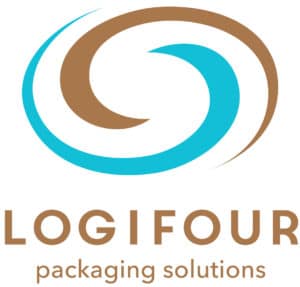 New corporate identity
The new logo is part of the new corporate identity, which will be phased in at both the physical location and online. We aim to have implemented the new 'look and feel' of Duijvestijn and LogiFour as much as possible by Q2 of 2020. This means you may occasionally still see the old logos.
The new website is now online, we warmly invite you to take a look at www.duijvestijntomaten.nl 
We hope that you will see our products, services and our committed team reflected in our fresh, new corporate identity. We are certainly very proud of the results and are ready to serve you as always.
On behalf of the management and staff of Duijvestijn and LogiFour